Venture Polished Skateboard Truck - HI 5.2
FEATURES
ORIGIN
Made in the USA - Made in San Francisco, California
SIZING REFERENCE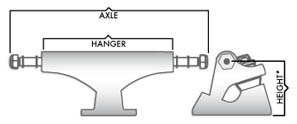 Sizing Image - Every truck company seems to represent their truck sizing a little differently, so it's easy to get confused. To avoid any potential confusion take a look at this graphic and then reference the size chart.
NON-COMPATIBLE RISERS
Risers from the following brands are not compatible with the baseplates of these trucks.
Dooks
, 
Girl
, 
Loaded
, 
Paris
SPECS
| SIZE | 7.6 AXLE | 7.6 AXLE (LOW) | 8.0 AXLE | 8.0 AXLE (LOW) | 8.5 AXLE |
| --- | --- | --- | --- | --- | --- |
| VENTURE SIZE: | 5.0 HI | 5.0 LO | 5.2 HI | 5.2 LO | 5.8 HI |
| HANGER (MM): | 127.0 | 127.0 | 132.0 | 132.0 | 147.3 |
| BOARD RANGE (IN): | 7.4 - 7.875 | 7.4 - 7.875 | 7.75 - 8.25 | 7.75 - 8.25 | 8.25 - 8.75 |
| HEIGHT (MM): | 53.5 | 48.3 | 53.5 | 48.3 | 53.5 |
i