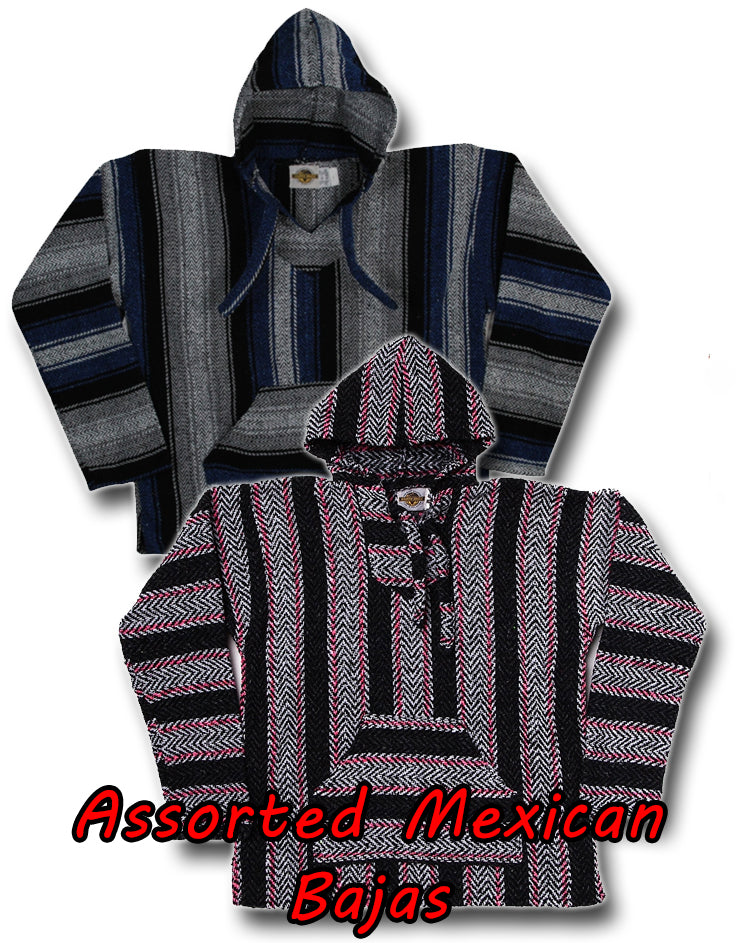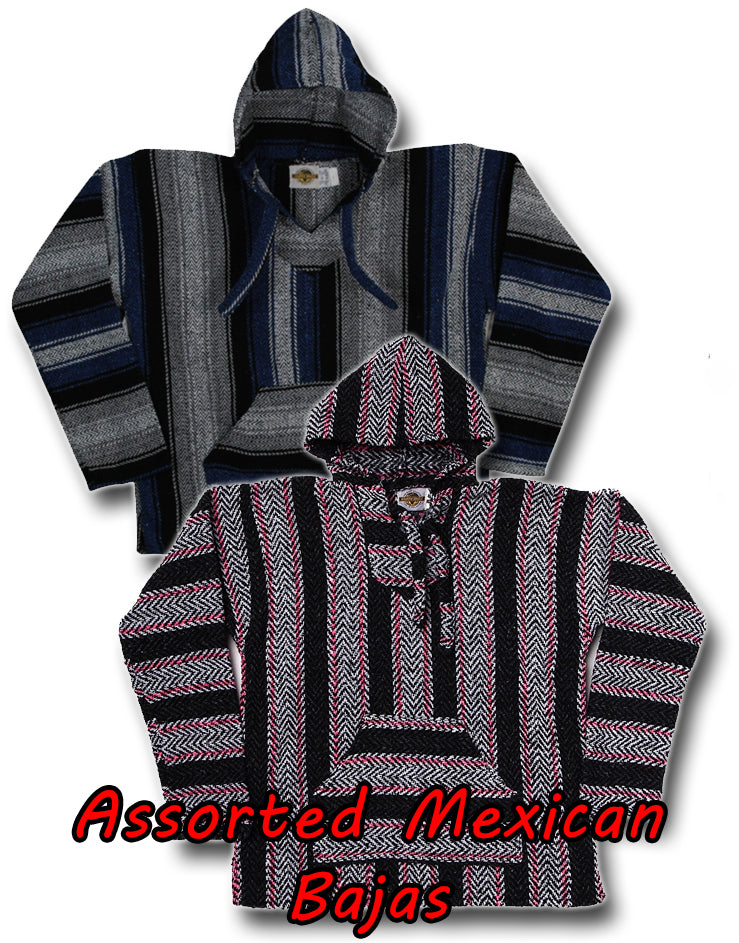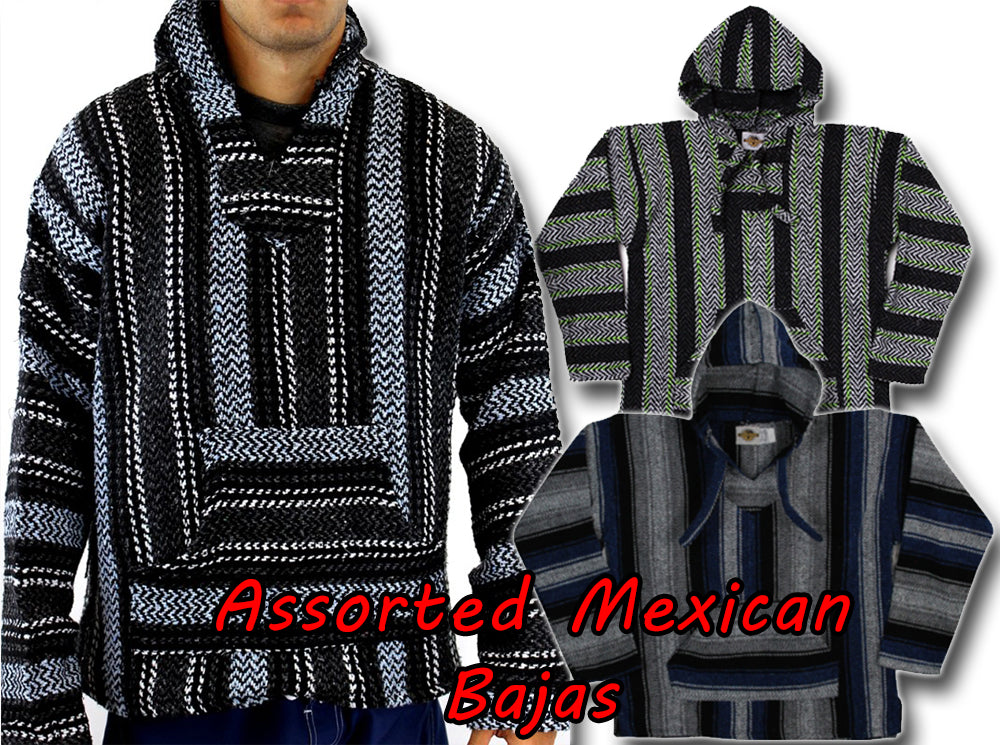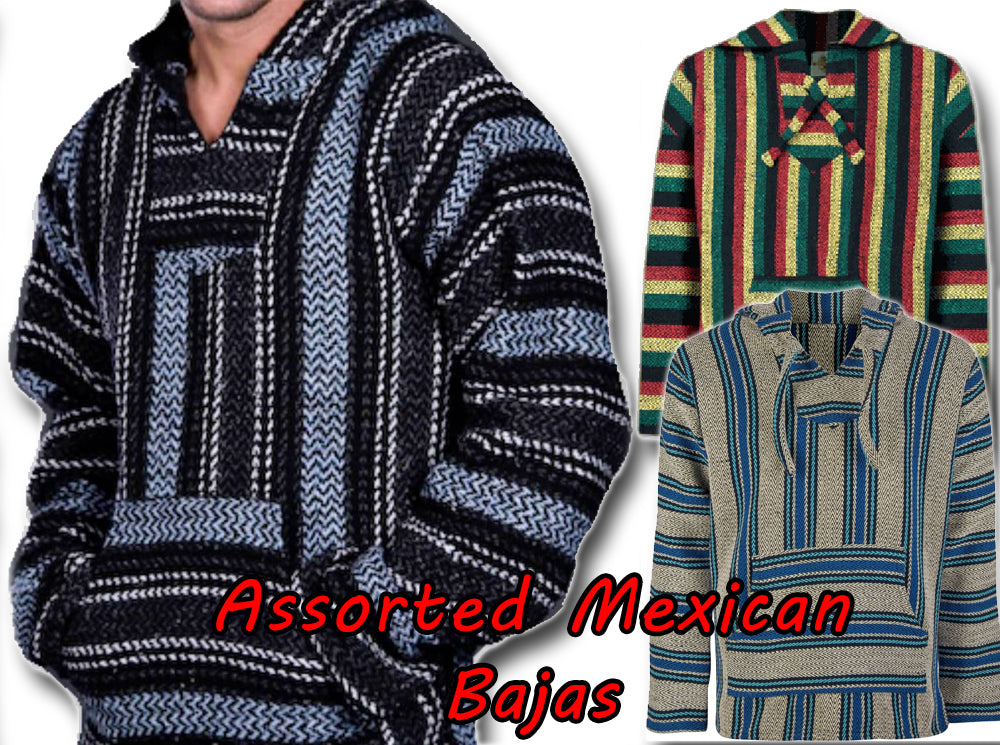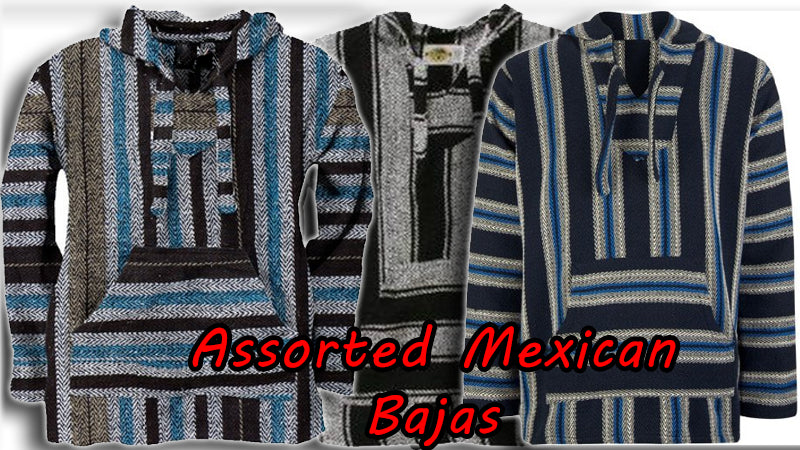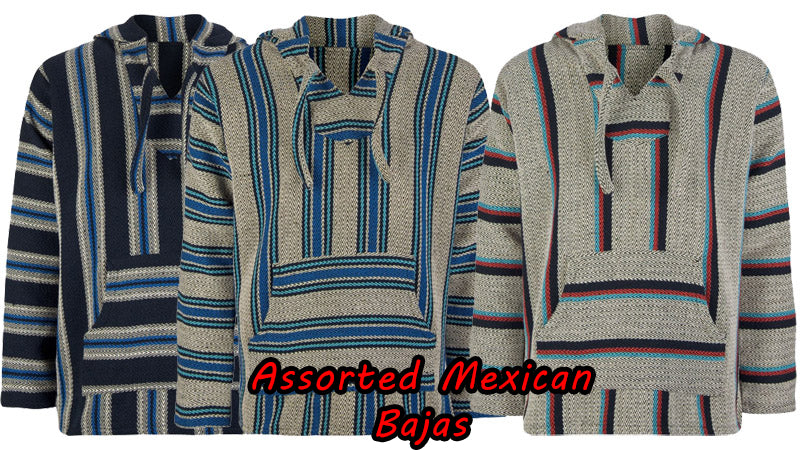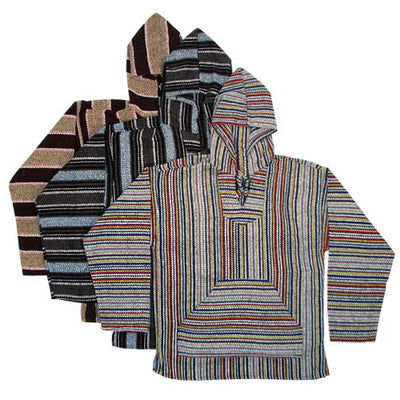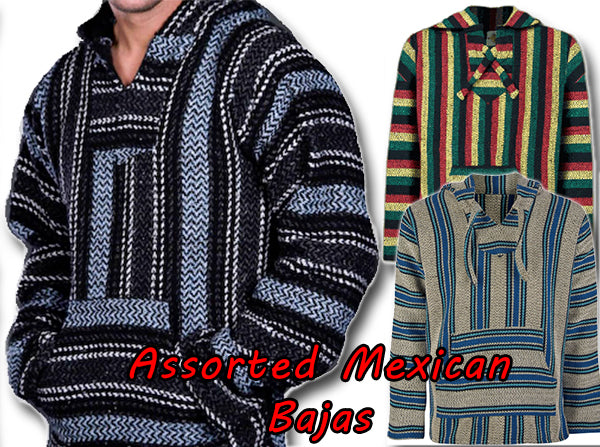 Deluxe Baja - Original Mexican Baja Hoodies In Assorted Colors & Styles
These are random colors and styles. Please let us choose. Thank you.
Direct From the Surf Ripped Beaches of Baja comes this authentic "Baja" Hoodie. Each Baja Jacket is made of 100% Eco-Yarn, a material that is proven warm, durable, comfortable and environmentally friendly. Our Baja Pull over hoodies feature hand made construction and classic surfer styling that have made these hoodies popular from the sandy beaches of the Baja Peninsula to the streets of San Fransisco to the Fields of Woodstock. Each hoodie includes Tightly woven breathable fabric that is warm and cozy. A large, oversized front pouch pocket keeps hands warm and holds you stuff. V-neck adds to breatability and can be tied closed for added style and warmth. A over head hood can be worn up or down! These is no better way to warm up on the breezy beach then throwing on your Baja! Since these garments are hand crafted no two Baja Poncos are exactly alike.
Colors & patterns Ship Assorted.This Baja Hoodie Features:
100% Natural Ecoyarn Construction
Super warm yet breathable Material
Oversized front pouch pocket
Tie close comfort v-neck



SIZING

Small Baja Hoodie Measurements
Chest: 17-18″ across front (Only 34 to 36 inches around)
Body Length (Top of Shoulder to Bottom Hem): 25″
Arm Length (sleeve from armpit seam to cuff): 19″
Medium Baja Hoodie Measurements
Chest: 20″ across front / 40″ all the way around
Body Length (Top of Shoulder to Bottom Hem): 27″
Arm Length (sleeve from armpit seam to cuff): 19″
Large Baja Hoodie Measurments
Chest: 21″-22″ across front / 42″-44″ all the way around
Body Length: (Top of shoulder to bottom): 28″
Arm Length (sleeve from armpit to cuff): 21″
XL Baja Hoodie Measurements
Chest Width: ~25″
Body Length: (Top of shoulder to bottom): ~31″
Arm Length (sleeve from armpit to cuff): ~22″
XXL Baja Hoodie Measurements
Chest Width: 26-27″
Body Length: (Top of shoulder to bottom): 32″
Arm Length (sleeve from armpit to cuff): 23″
XXXL Baja Hoodie Measurements
Chest Width: 29-31″
Body Length: (Top of shoulder to bottom): 33″
Arm Length (sleeve from armpit to cuff): 24″